GLUTA MN By MN Skincare Product Review
Everyone dream about a bright a glowing skin but very few can really enjoy that satisfying skin tone. You might have tried several products from market till now to promote the clean skin but there is no need to feel sad about their unsatisfying performance because your hopes can be now fulfilled by Gluta MN. Yeah! This low cost, the user-friendly herbal solution is popularly used in Thailand for several years and now people at other corners of the world are also enjoying its incredible health benefits.
There are so many interesting things to know about Gluta MN so it is good to find some time to read the details below. Soon you will be able to find a magical solution to meet your desire for glowing skin.
What is Gluta MN?
This herbal product is designed by MN Skincare and it is widely known as a side effect free dietary supplement. People who have already used this product reveal that it shows incredible results even within 7 days regular usage. Gluta MN is designed with nature inspired ingredients and it promotes glowing skin tone with a clear appearance. That means in form of Gluta MN you will also be able to have a powerful solution to fight against dark spots, freckles, melasmas and acnes. Due to its herbal composition, it is believed to be 100% safe so anyone can use it without any fear of side effects.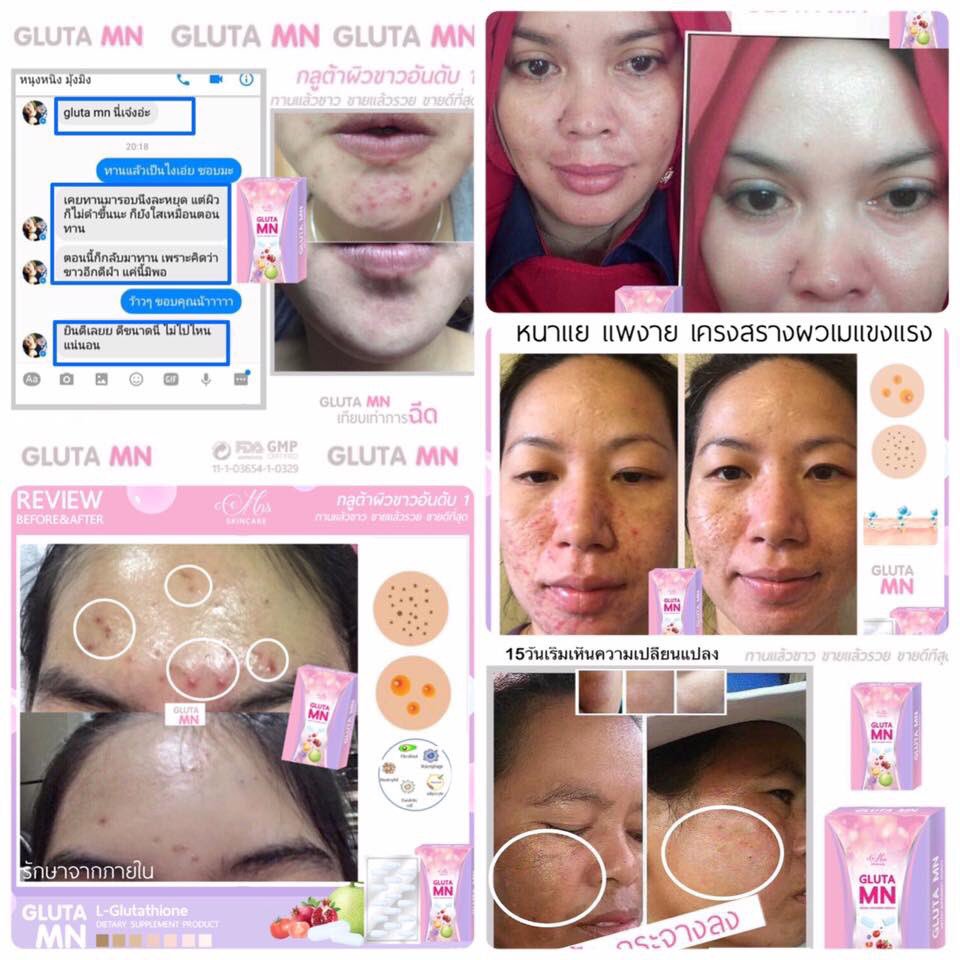 What are the major Ingredients of Gluta MN?
Gluta MN consists of several healthy ingredients such as Lycopene, Pomegranate, Melon Extract, Collagen, and L-Glutathione. Each one of these leads to incredible benefits for complete skin tone improvement. Below are some the most essential details about essential ingredients of Gluta MN and benefits associated with them:
L-Glutathione improves the production of melanin so that a natural skin brightening action can be initiated inside the body. At the same time, it also promotes the production of collagens.
Collagen content also assists in the improvement of skin elasticity while reducing wrinkles. You will soon observe more strength in your skin layers with firmer look along with tightening and fresh skin. It helps to boost healthy and glowing skin growth.
Melon Extract is well known for its antioxidant property that ensures active action on the deterioration of skin cells so that better skin health can be achieved.
Pomegranate extract also has antioxidant properties that are effective enough to reduce dark spots and ensure healthy looking skin.
Lycopene works effectively to reduce skin wrinkles while reducing skin aging process and fighting against the free radicals. You will be able to avail lively and glowing skin within very short time.
Gluta MN is used by millions of people till now and it is believed to deliver incredible results for skin brightening process. You need to consume only one or two capsules per day right before going to bed and within few days you will observe a glowing skin with a feeling of freshness.