Asta Plus 14 capsules
Supplementary food with Astaxanthin, Zinc, Broccoli, and Hydrolyzed fish collagen.
Rebalacing and stimulate the regeneration processes of the body and strengthen the immune system.
Prevent cancer and also strengthen vascular wall with pure collagen particles.
Reduce wrinkles and maintain skin elasticity, keep the skin smooth and lifted
Rejuvenates the skin with potent anti-oxidants properties to the DNA.
Recommended Intake
1-2 capsule daily, preferably with food per day
FDA Registration Number: 12-1-13353-1-0469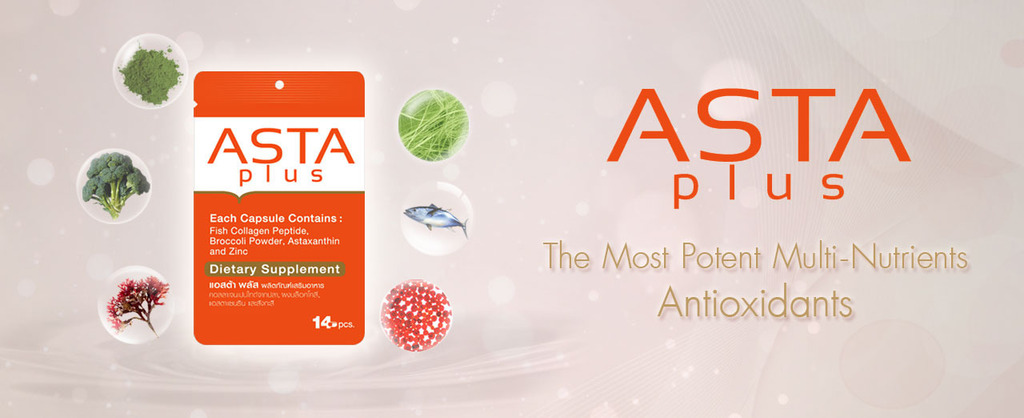 Astaxanthin is the most potent antioxidants that currently found Research show that it is the most powerful quencher of oxidant activity, especially when compare with other source; 17 times stronger than Grape seed Extract, 40 times stronger than β-carotene, 75 times stronger than ALA, 550 times stronger than Vitamin-E α-tocopherol, 550 times stronger than Green Tea, 800 times stronger than CoQ10, 6000 times stronger than Vitamin-C
Benefits of Astaxanthin
• Maintain youthful skin and reduce wrinkles and dark spots
• Prevent eye fatigue and protect the eyes from UV radiation
• Maintain muscle and joint and improve muscular endurance.
• Balance digestive system.
• Reduce the risk of cancer, diabetes, heart disease, stroke.