Product Description

Cathy Doll Slim Face Bible-BTX V-Line Heating Pack
( Each box contains 3 pieces of V-Line Heating Pack. )
Highly recommended ! The face lifting innovation without need for plastic surgery or botox filling by Cathy Doll!!
Hot face lifting sheet from Korea helps lift your facial skin especially at the chin area.
It turns a U-shaped face into a V-shaped face easily with Hedera Helix (Ivy)
Extract and premium skin food that helps burn out cellulite and stimulate collagen production.
Additionally, Caviar and Camellia Sinensis Leaf Extract act as perfect anti-oxidants.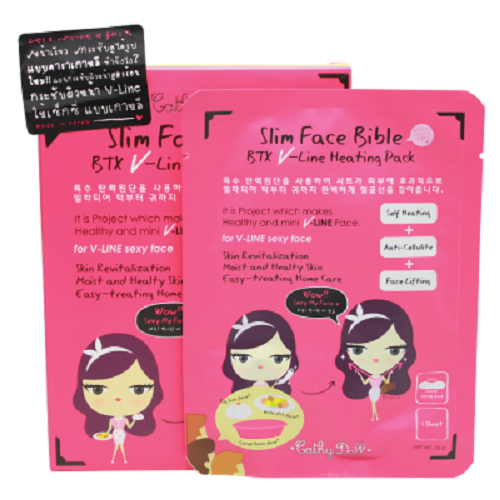 Your face can be V-shaped like Korean girls without any surgery, fillers or medical side effects with BTX V-Line Heating Pack.
Ingredients:
Water, Glycerin, Butylene Glycol, Hyaluronic acid, Ceteryl Isononanoate, Betaine, Polysorbate80, ceteareth-20,
cetearyl alcohol, tocopheryl acetate, carbomer, sodium hydroxide, fragrance.
How to use:
Wash your face. Make sure the mask is in position from left to right.
Hang the product on ears feeling strain on your jaw and cheeks. Leave on for about 30-40 minutes then peel off
Condition : Brand new, sealed, never open in a box
Quantity : 1 box contains 3 pieces