Famous Face, V line Face Set (1 Silicone belt + 7 Masks)
The latest product from Korea for V-line facial contours. 10 Days results guaranteed!
Properties:
Famous Face is the latest V-line product from Korea. With triple concentration, the mask helps lift up and shape up face for a V-line curve. It also helps eliminate cheek fats and double chin. This intensive mask is suitable for those who want to reshape facial contours that encounter sagging conditions or allergic to botox and meso fat therapy.
Famous Face mask is enriched with various natural extracts to intensively nourish skin and reduce aging signs by effects of Corum 9235 that produces heat, resulting in the breakdown of fats. The mask also helps with better absorption of other nourishments deeply to dermis layer. With formulation of Glaucine, it breaks up fat accumulation and firms up skin. Recommended to use with silicone strap for more effective lift-up and shaping effects.
Latest Firming Silicone Strap!
Famous Face Strap newly developed with silicone base is more efficient in shaping up facial contours with no irritation. The strap provides long sheflife and is easy-cleaning with just washing and drying.
[NEW PACKAGING]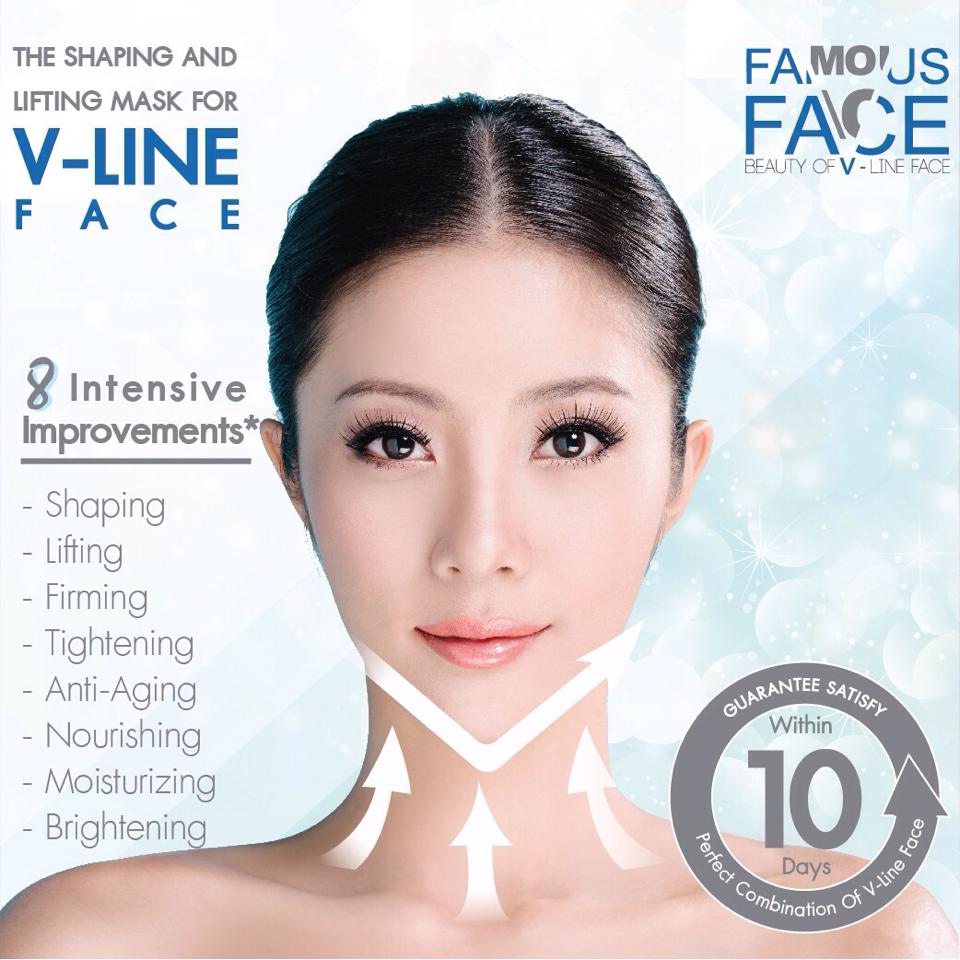 Latest Face Sheet Mask!
Famous Face Sheet Mask is produced by 100% cotton base. The cream within is well-developed for better and faster effects with more concentrated ingredients. This results in rapid lifting, firming and tightening effects.
100% cotton base for more comfort and better absorption
Bigger size to entirely cover facial contours and neck
Gentle and suitable for even sensitive skin
Newly developed for better and faster effects
More concentrated ingredients
Key Ingredients:
Directions:
Cleanse facial skin.
Place the face sheet over the silicone strap.
Strap and tighten around chin and neck areas for 1 hour.
Remove the strap and put gently massage around cheeks, chin and neck for absorption of the cream.
Beauty Tips:
Famous Face should be used continuously for 10 days to see distinctive result. 2-3 times weekly application is recommended to maintain the results.
Content: 1 Silicone Strap + 7 Sheet Masks
FDA Registration Number: 10-2-5716865
**The result is varied in individuals.**