Yanhee BS Slim Gel For Body Slim 100 g.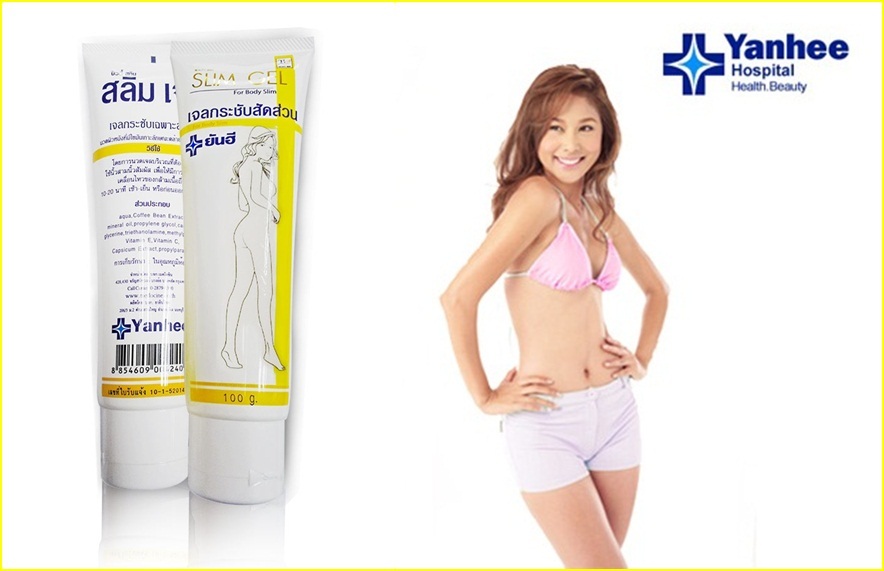 Slim Gel.
Firming massage gel, body proportions. Breakdown of fat for pretty slim fit.
This is product of Yanhee Hospital , the famous hospital in the region.
Beautiful Skin Slimming Massage Gel breakdown of fat as orange peel skin.
Reduce wrinkles for skin elasticity, reduce the aging of the skin to tighten the skin. The streamlined shape is pretty slim.
Liposome Theophyllin : accelerating the breakdown of excess fat. Orange peel skin breakdown.
Liposome caffeine: Preventing a lump of fat and stimulate the breakdown of fat cells.
Tannic acid : a flexible skin and prevent aging of the skin.
Vitamin C : strengthens the collagen to tighten skin elasticity
Ingredients
theophylline, barley extract, sweet clover, ivy extract, mushroom extract, Shrike is a broom extract, lemon extract, pure water,
Kaposi 940 (Medical jelly gel-forming agent), vitamin E, vitamin C.
Usage
Apply the gel over the area you want to slim such as the hips, thighs, upper arms and abdomen on or before exercise.
Move or exercise the muscles for 10-20 minutes every morning and before going to bed.
Use regularly for at least 2 weeks.
Suitable for:
A lot of women because of long term local obesity sedentary causes, such as waist, abdomen, buttocks fat accumulation, thighs and arms too much fat, but they do not need these partial body weight loss in obese people.
Circulation and metabolism are relative weak and can not discharge excess body water.
People have cellulite or fat grain because of fat.
After weight loss, loose skin, pulling the need to tighten the skin, sculpture perfect curve of the crowd.
Origin : Thailand
Condition : 100% Brand new, sealed, never opened
Quantity : 1 piece
Size : 100g.